edited to add: Finishes today can be from the last two weeks because of Blogger's Quilt Festival last week. Thanks for the reminder Leslie!
It's been another week with no finishes for me. I have started working on a dress to wear to the Marine Corps Birthday Ball in a couple of weeks. I'll be able to show that to you soon.
So today I'm excited to share a beautiful finish from a fellow sew & teller!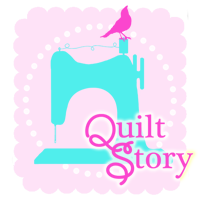 The brain child of sisters Heather and Megan of
Fresh Poppy Designs
is a fairly new blog called
Quilt Story
. Have you heard of it? They've been participants in Sew & Tell in the past and have created this new blog aptly titled. In their own words:
"Every quilt has a story behind them, and we really wanted to take the time to share what was put into each quilt. I have realized now more than ever that most quilts have a lot of love put into them. They are made for friends, they are made for babies. They are made to comfort. They are made to hold someone who is sick. Each quilt really has something to tell and that is what we are doing at Quiltstory. We take submissions from everyone and would love more quilts to feature."
Like I said, what a great idea! Behind every quilt
is
a great story!
Heather has
a finish this week
of her first quilt free-motion quilted by herself! This inspires me since I am free-motion quilting my bird quilt by myself. For the first time. It's scary!
I love her rationalization for her new sewing machine, I'm going to have to try that out too. You'll have to go over to
her post
to read about this gorgeous quilt!
Be sure to head over and leave her some comment love!
Can't wait to see your finishes this week! I love having a weekly deadline giving me (and you!) a reason to finish up another project!
What did you finish this week?
NEW RULES FOR LINKING UP!

Please read carefully. The delete monster will be eating non-compliant links.
1.
Please write the post for sew & tell - or add a blurb mentioning sew & tell to a post written earlier in the week. This is not a tutorial party. Please link to any tutorials you may have used.
2.
One linky per person. (please put multiple projects in one post.)
4. Link back here with a link or a button.